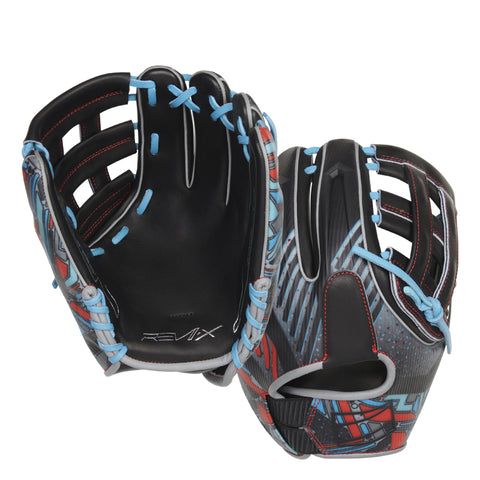 Rawlings REV1X 11.75" Glove (REV205-6B)
11.75 Inch Length

Recommended For Use By Pitchers & Infielders (SS & 3B)

Stiffer Feel Will Require A Break-In

Designed To Fit A High School-To-Adult Sized Hand

Closed Webbing (With A Distinct Letter X Sewn Into The Web)

205 Pattern - 11.75 Inch Length. Deepest Pocket And Standard Palm Width. Closes Thumb To 4th Finger And Pinky.

Palm Shell Is Constructed From Heart Of The Hide Quality U.S. Steerhide Leather

Shell Backing Is Made In A Synthetic Material With The Help of A Carbon Brand 3D Printer. The Synthetic Matherial Helps Create A Perfect Glove Shape & Allows For Thinner Padding In The Glove That Should Still Hold Up Over Time.

Rawlings Adaptive Fit System - Employs Elastic Material That Keeps The Wrist Backing Snug To Your Hand Without Including A Cumbersome Lacing System.

Conventional Open Backing

An Optimized Lattice Structure In The Pinky & Thumb Material Of The Glove Allows For Variable Thickness In Those 2 Sections. This Should Lower The Weight On The Glove While Also Keeping These Areas Durable.

Pinky & Thumb Sections Of Inner Hand Lining Are Free Of Leather Loops. Allows For More Freedom In Regard To Manner In Which You Wear Your Glove (i.e. Standard -Or- With 2 Fingers In Pinky Stall)

Top Of The Web & Heel Of The Glove Feature A Lace-Less Design That Rawlings Says Should Improve Fielding Ability.